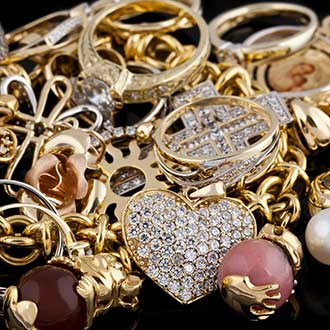 Among the leading, trusted authorities in the precious metals industry, Vancouver Gold is one of Canada's trusted neighbourhood gold buyers. We will buy almost any item that is solid gold, silver or platinum.
Having served thousands of clients and customers, we understand the questions that people may have. So in order to answer the most common questions, we've included a list of items we buy. Note that this list is not complete and does not include everything we buy!
Yellow Gold Jewellery
White Gold Jewellery
Silver Jewellery
Silverware
Gold Coins
Silver Coins
East Indian Gold
Asian Gold
Broken Gold
Dental Gold
Gold Nuggets
Wedding Gold
Gold Bars
Placer Gold
and more..
*We offer the highest-possible payouts for diamonds.
Please click here to read about our diamond buying services.*
---
Items We Do Not Buy
Gold Plated or Gold Filled items. The following is a list of items stamps signifying items that are not solid gold.
Items We Do Not Buy
GP:
Gold Plated
1/10th 10Kt,1/20th 12Kt:
Items only contain 1/10th of their weight as 10kt or 1/20th of their weight as 12kt
GF:
Gold Filled (items with a thicker gold plate)
GE:
Gold Electroplated
RGP:
Rolled Gold Plate
EPNS:
Electroplated Nickel Silver
HGE:
Heavy Gold Plate
GS:
Gold Shell
GP:
Gold Plate
---
Understanding Jewellery Hallmarks
The golds purity is usually stamped right onto the items. If the stamp has worn off, we have techniques to check the purity for you. This table helps you understand some of the common markings on the gold items that you are selling:
| Karat Stamping | Purity (Parts per Thousand) |
| --- | --- |
| 8k (Old European Gold) | 333 |
| 9k (English or European Gold) | 375 |
| 10k (Most Common in North America) | 417 |
| 14k (Common in North America and Italy) | 585 |
| 18k | 750 |
| 22k (Middle Eastern or Asian) | 916 |
| 24k (Asian) | 999 |
| 925 | Silver |
| GP, EGP, GF, Guaranteed. RGP, HE, KP | Gold Plated (Not Gold) |