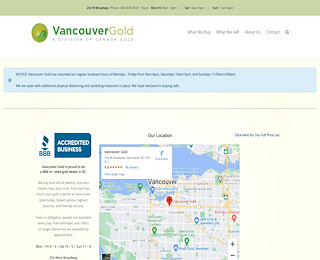 Gold is one of the most important precious metals in the world. There is a limited supply of natural gold and it is traded on the global market. For that reason, gold makes an ideal investment or supplemental investment addition to your portfolio. Vancouver bullion rates vary on a daily basis based on the market prices. In general, the gold value has increased greatly over the last decades.
Collecting Gold for Investments
Gold is coveted around the globe and is collected not only for its intrinsic beauty but also for its value. Top investors know that gold is one of the best investments you can make because the long-term value is most likely to increase. The same cannot be said about other types of investments such as stocks and bonds.
There are different options for choosing gold as an investment. The first thing you will want to do is determine how much money you have available for your investment and then check the latest Vancouver bullion rates. You may want to pay attention to the Vancouver bullion rates over a period of time to determine the best time to make a purchase.
The two most popular types of gold for investment purposes are gold coins and gold bullion bars. Gold coins are available from Canada as well as from the United States and many other countries around the world. Coins are not only a good investment but they are also fun and interesting to collect.
Gold Coins and Gold Bars
Choose gold coins that are from a reputable mint such as the Royal Canadian Mint. You will be assured that the coins you purchase originally came from a high quality gold source. Royal Canadian Mint was established in 1908 and has been consistently producing top grade gold coins and bars since then. The gold Canadian Maple Leaf is among the most commonly collected of all gold coins in the world.
Gold bars are available in many different sizes. They use a measurement of gold called the troy ounce. This is a special globally accepted standard of weight for all gold that is traded in the marketplace. You don't need to spend a fortune to buy a huge gold bar. Instead, consider the current Vancouver bullion rates to determine the size gold bar that you choose for your investment.
One of the most common sizes of gold bars for collectors and investors is one troy ounce. This size bar measures 24 mm by 42 mm by 2mm thick. Keep your gold bars separately in a protective pouch. It is best to keep them under lock and key or in a safe if you have access.
You can find a full range of gold bars and gold coins to choose from depending on your particular needs and how much you have to spend on the investment. Remember that you can keep gold as a long-term investment in order to get the best return. However, you can also sell your gold coins and bars at any time when you need some extra cash.
Vancouver Gold
6048764653
254 W Broadway, Vancouver, BC V5Y 1P6
View Larger Map