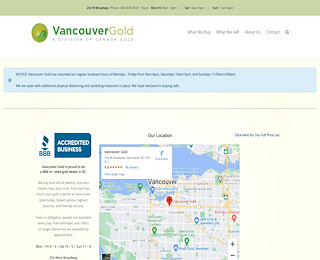 Coin collecting is a fun and interesting hobby and is also one that people participate in for wealth. Coins that are made of precious metals appreciate in value over time, making them a valuable part of your assets. If you have some coins that you no longer want, or when you want to get some cash for other needs, you can bring your collection to a coin shop in Vancouver.
How Much Are My Coins Worth?
Many years ago, coins were made primarily with precious metals because that was how their worth was determined. Precious metals were mixed with other types of metal to provide strength and durability. Older coins may have more value if they contain a higher percentage of precious metal. In most cases, old coins are worth more than face value, so don't spend them at the store.
Instead, take your coins to a coin shop in Vancouver. An expert will evaluate your coins and determine how much they are worth. Some coins are sought after for their rarity while others are simply valued based on their precious metal content.
Gold and silver, as well as other precious metals are part of the global marketplace. The price of gold and silver fluctuates on a daily basis. Overall, the prices of gold and silver have increased quite a bit over the years. This upward trend continues, although the price may rise and fall from day to day.
Gold prices are based on per troy ounce. This is a global measurement that is similar to ounces or kilograms. To find out how much your coins are worth the expert at the coin shop in Vancouver will weigh the coin. Then, the amount of precious metal in the coin will determine the price. If a coin is fifty-percent pure silver, the price would be based on that percentage.
Get Cash for Your Coins
When you want to sell your coins fast there is no better way to do it than to take them to a coin shop in Vancouver. You won't need to wait for a coin show and you don't need to worry about the uncertainty of selling your coins in an online auction. You will be able to take your coins in and get paid for them immediately so you can leave with cash.
If you have been saving old coins that were passed down from relatives, you can find out whether they are actually worth anything. The coin shop has experts on duty that know everything there is to know about coins. They will be able to look at your coins and give you answers about whether they are worth saving.
You will also find out what price you will be paid for the coins and can decide whether you want to leave with a wallet full of cash. You can also learn some history of the coins that you have been keeping. If you are a coin collector, you can visit the shop to find and purchase coins to add to your collection.
Coin Shop Vancouver
Vancouver Gold
6048764653
254 W Broadway, Vancouver, BC V5Y 1P6
View Larger Map